8 Toronto Ice Cream Shops You Need To Try This Summer
Beat the summer heat.
As Toronto seems to finally be headed into the hotter days of summer, shorts and tank tops are in full effect on the streets. It is very important to take care of your skin and keep hydrated, but even more importantly, it is crucial to find salvation for awhile with a nice cold treat out of the sweltering city heat. Have no fear, the Toronto ice cream gods are here.
The following heavenly names are some must-visit ice cream shops that are special to Toronto. If you thought Baskin Robbins was the best tasting or the most Instagram worthy, you have not tried T.O's finest. Do your taste buds a favor and indulge in true ice cream decadence, will ya?
Photo Cred - meplusmylife
1. Greg's Ice Cream
Well-known for the burnt marshmallow ice cream flavor above, Greg's has people running back to taste the smokey campfire. Delicious, not too far from U of T or Ryerson... why aren't you there yet?
---
Photo Cred - insomnimaqz
2. Dutch Dreams
Are words even necessary after seeing the above photo? Dutch Dreams is literally what dreams are made of. Besides their wide range of ice cream flavours, Dutch Dreams also offers frozen yogurt, sundaes, and milkshakes. The pina colada smoothie is a must, must, must.
---
Photo Cred - Amber Dawn Pullin
3. Ed's Real Scoop
A selection of handmade ice cream flavors served in entrancing creamy blankets... Oh sorry, I think I was drooling a little. Their freshly cooked waffle cones have people following the delicious scent from the street. The Maple Bacon Crunch, Sangria Sorbet, and French Mint are some known favorites.
---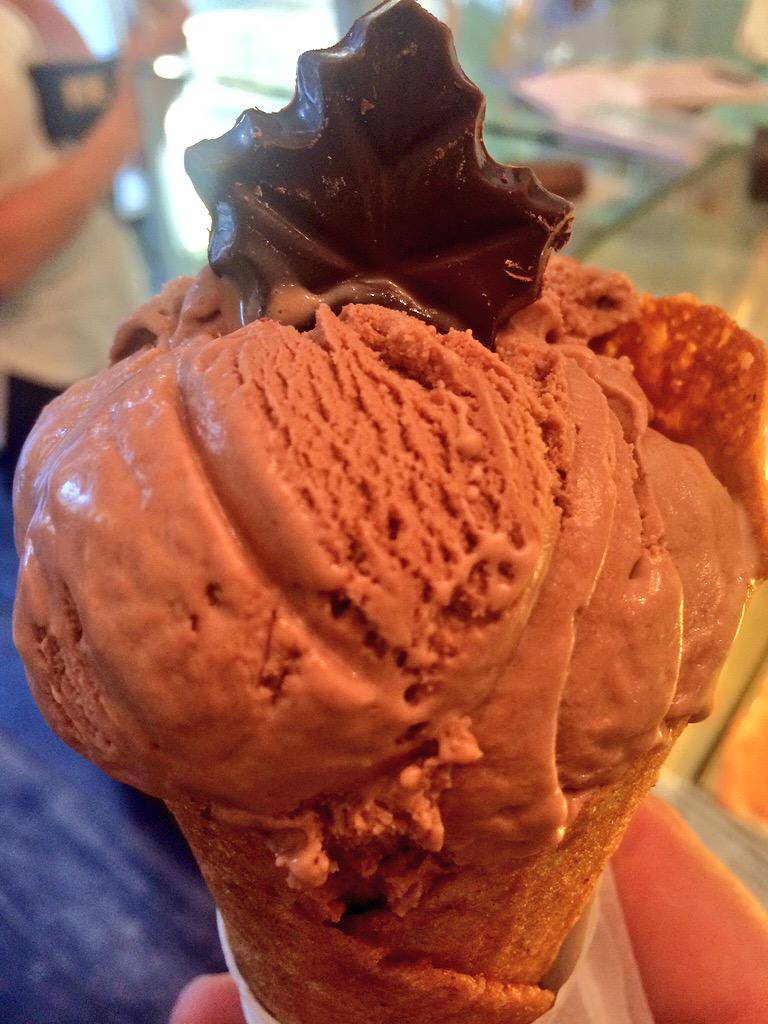 Photo Cred - Twitter
4. Delight Chocolate
Delight is one of the few spots in Toronto you can get handmade vegan ice cream. Using certified Local Food Plus eggs, organic fair trade chocolate, and Harmony organic dairy, Delight is a gem to be found in The Junction. The flavors are truly unique, with everything from in-season Ontario fruits to banana caramel to Guatemalan coffee to Quebec blue cheese. Yes, blue cheese. You read that right. It is actually one of the customer favourites.
---
5. Hotel Gelato
Homemade gelato, anyone? Hotel Gelato has some of the best reviews in Toronto. Also offering light lunches, dinners, and delicious baked goods, Hotel Gelato is a must visit this summer. If only it was an actual hotel with gelato delivery room service... yum. But for now, this delightful little cafe will do.
---
6. Bang Bang Ice Cream and Bakery
Serving some of the best waffles and ice cream cookie sandwiches in Toronto, it is no wonder there is always a line up outside the shop. Well worth the wait, you need to get down to Bang Bang ASAP. Among some of the unique flavours to try? London Fog Earl Grey, Milk N Cookies, Matcha Chestnut, Ginger Milk, Mission Fig, Espresso, Totaro, and Peanut Butter and Jelly. The soft and warm Hong Kong waffle never disappoints, either.
Located right by Trinity Bellwoods, why not grab a cold treat and head over to relax in the park?
---
7. Sweet Olenka's
Sweet Olenka's Ice Cream and Bakery is a cozy Lakeshore specialty. Along with some of the most mouthwatering homemade chocolates and pastries in Toronto, many say that Olenka's has the best ice cream in the city as well. Less crowded than Bang Bang around the corner, some must try's at Olenka's are the truffles, seasonal fruit flavours, and the brownies. Mmmm...
---
Photo Cred - The Big Chill
8. The Big Chill
Chill out on a hot summer's day with some delicious ice cream from The Big Chill. This lovely little spot in Toronto is home to some cool flavours: Chocolate Chip Cookie Dough Ice Cream, Chocolate Peanut Butter, Banana Fudge, Mango Sherbet, Tropical Coconut, and Pistachio Kulfi. They also serve other treats like shakes and sundaes. Their special ice cream donut sundae they got goin' on is paradise for any sweet tooth.
You can't run thru the 6 without stopping to grab some creamy cold goodness first. As Tom and Donna from Parks and Recreation would say, "Treat yo self."