The Best Toronto Food Truck Guide Ever
Our streets offer quite a unique eating experience.
Toronto is arguably the most multicultural and diverse city on earth and our food truck scene proves it. From delicious East African fare to delicate cupcakes, Toronto's street food is more vibrant than ever. With summer lasting only three short months savvy street eaters need to embrace every opportunity they can to try new and exciting food. Here is a guide to the best multicultural cuisine in the city.
For the true foodie or those who like to plan every meal well in advance Toronto offers a food truck app and website. The easy to use website lets the hungry hordes find their favourite trucks, see who's new on the scene, and what's hot on different menus.
Bon Appétit, Toronto!
---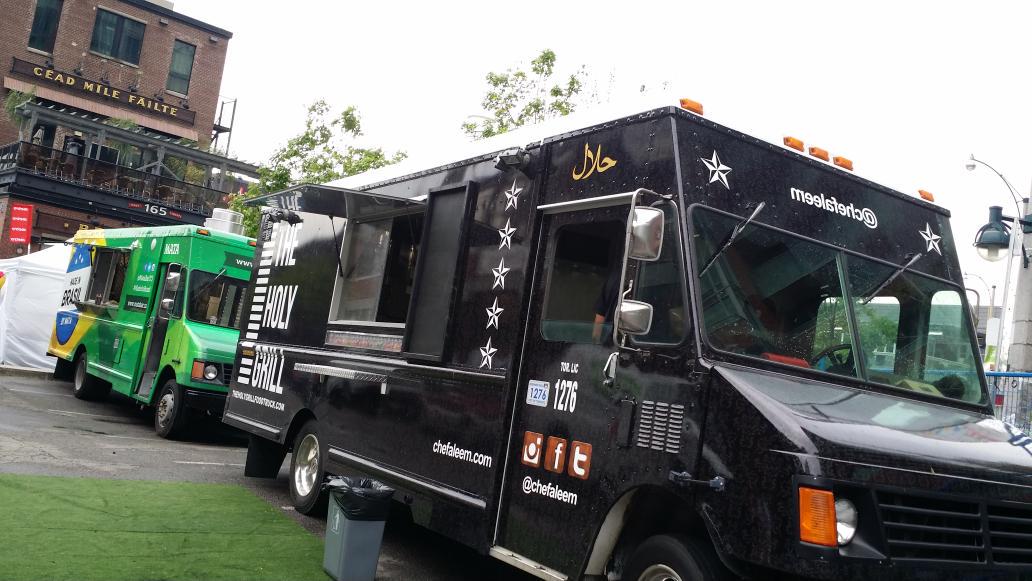 Photo cred - Hashtaghalal
1. The Holy Grill
Toronto's first Halal food truck, and North America's only wheel chair accessible kitchen-on-wheels, The Holy Grill, is the culinary creation of Chef Aleem Sayeed. The classically trained and renowned chef offers bold flavours mixed with classic Canadian comfort. Dishes like the butter chicken poutine, duck and green chili chicken tacos, and gourmet burgers mix fine cuisine with mouth-watering nostalgia. Chef Sayeed merges his fine dining experience with the urban landscape in the most delicious of ways. Check out Holy Grill at this year's OVO Fest on August 2&3. Last seen outside Musiq Night Club.
---

Photo cred - James Moore
2. Caplansky's
A food truck vet on the Toronto streets, 'Thunderin' Thelma' is run by celebrity chef Zane Caplansky and is a mini version of the signature deli on College… only mobile. Featuring some of the delights found at the deli like the crisp and meaty beef bacon and the signature in house mustard. Caplansky's food truck serves traditional Smoked Meat sandwiches, succulent BBQ beef Brisket sliders as well as tacos, and the one-of-a-kind Maple Beef Bacon donut that brings patrons flocking to the deli. If you're really brave ask about the Beef tongue. Thunderin' Thelma is a local celebrity in her own right and even has her own website featuring daily specials, and a Google map of her location so you can hunt her down and eat her treats. Last spotted at 71 Spadina Ave.
---
Photo cred- Crave Strobes
3. Bacon Nation
With the slogan #BaconLoversUnite you can be sure the Bacon Nation truck means business. Taking all the best sellers from their brick and mortar store on Spadina and loading it on this carnivore caravan the entire menu is bacon themed, bacon inspired, and centred around bacon; it is a meat lover's dream. Sky-high smoky bacon sandwiches, loaded bacon-burgers, bacon encrusted melty grilled cheese sandwiches, there are even bacon infused drinks for the adventurous. If that isn't enough bacon for you, their signature Thick Cut Bacon Stix should fulfill the heartiest meat craving out there. Last seen at Taste of Toronto.
---
Photo cred- Abbey Sharp
4. Fidel Gastro
Part of the street-food brand created by international chef Matt Basile The Fidel Gastro food truck was voted number one Food Truck in Canada by Canadian Living Magazine. Basile serves up his urban food on the road warrior known as "Priscilla". Featuring dishes with catchy titles like: The Sgt Slather, a slow cooked BBQ pulled pork sandwich with guac and crisp tortilla chips. Beets by Dre, a refreshing take on coleslaw with heirloom beets purple cabbage slaw and a spicy jalapeno aoli, and the Kingzilla, a root beer bathed, slow braised short rib served with a tangy kimchi. The menu at Fidel Gastro is luxury street food at its finest. Be sure to try the Cuban mac and cheese. Last spotted at Toronto Rib Fest and Mississauga's Square One.
---
Photo cred- Roaming Hunger
5. Curbalicious
Dishing out some fresh and locally sourced curbside deliciousness, Curbalicious offers up a variety of signature 'Sammies', like the Bahn Mi, a 24-hour slow braised pork belly Sammie accented with a zesty lemon aioli and pickled carrots and daikon, or the Daffey Duck Sammie, a smoked pulled duck meat sandwich slathered with homemade BBQ sauce and topped with a sweet and savoury apple, cabbage slaw. Curbalicious offers a pleasant break from the norm with their seasonal menu and local goodness. Mac and cheese squared and the compressed watermelon salad are also crowd favourites. This tasty truck also offers options for vegans and those with gluten allergies. Last seen at Mississauga's Square One.
---
Photo cred- H&H Sachet
6. Naan Sense
Toronto's first Indian Fusion truck cooks up scrumptious crispy Jerk chicken served on a sweet potato Naan with a herbed lemon aioli. Golden brown Lentil and Spinach Fritters fried to perfection for the vegetarian crowd, and a daily fish selection smothered in exotic spices and cooked in their state of the art Tandoori oven. All on board their movable feast.
---
Photo cred- Ingrid Goh
7. Me.N.U
Me.N.U puts the me and you in street food. Winning 2014 AwesTRUCK awards in the categories of Best Concept and People's choice. This Asian fusion food truck literally brings the newest cuisine from Asia to the streets of Toronto. With a huge cult following regulars know you can't go wrong with Me.N.U staples including, the hand-rolled deep fried tempura rice ball, Asian poutine creations that take Canada's favourite french fry dish and infuses it with a bold Asian flare. And the irresistible roti taco that replace the humdrum tortilla with a flavourful roti shell. Find them at this year's Taste of Asia festival. Last seen at Woodbine Beach.
---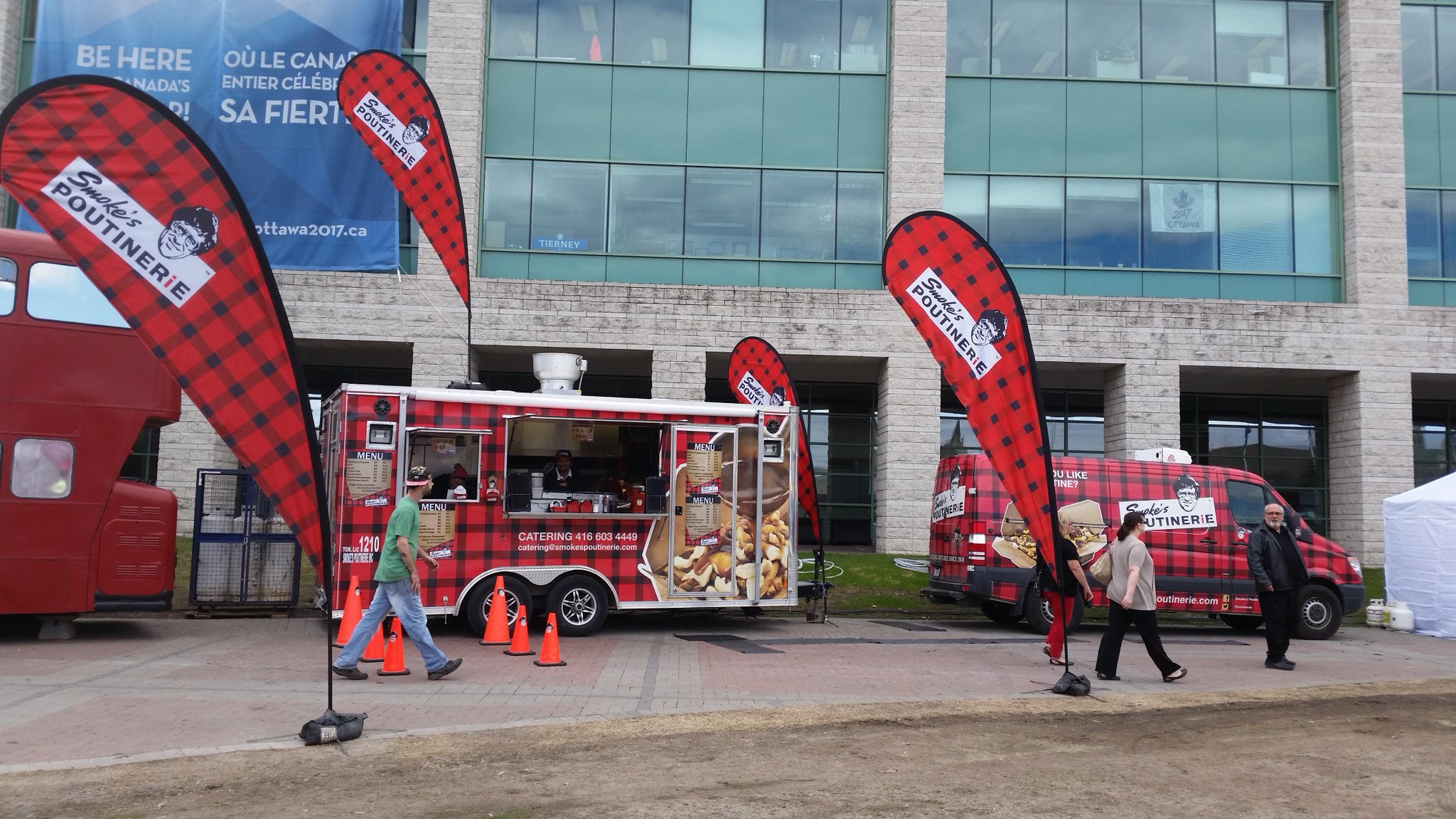 Photo cred- Smoke's Poutinerie
8. Smoke's Poutinerie
This red and black plaid truck was one of the first on the Toronto street scene, now with a fleet of trucks, trailers and vans Smoke's is bringing poutine to the masses. Smothering fries with gravy across Canada this truck takes our favourite national dish and adds mouth-watering toppings like cheesy cheeseburger, slow roasted pulled pork, and smoky bacon, creating a Poutine experience like no other. Smoke's is popular with the late night crowd because nothing ends a night of clubbing like cheesy, gravy covered fried potatoes. Last seen at the Toronto Zoo.
---
Photo cred- Curb Side Bliss
9. Curb Side Bliss
Not to be beat by their savoury counterparts, Curb Side Bliss bakes up sweet treats for any street it's parked on. Curb side Bliss is all about cupcakes, but not your average cupcake. With rich and decadent flavours like, maple walnut, Red Velvet, bubblegum, Ferero Rocher, peanut butter and salted caramel Curb Side Bliss caters to the most discerning of sweet tooth's. Serving up a wide array of daily goodies that are baked from scratch inside their mobile kitchen. There is even liquor infused treats for the adults.
---
Photo cred- Burgatory
10. Burgatory
This baby blue truck painted with angelic clouds and demonic flames is run by a mother and son team. Burgatory lets foodies dive taste buds first into the seven deadly sins. The Wrath, Sloth, Greed, Pride and Envy burgers are each an unique sinful experience inspired by their name sake. If you are feeling really guilty after indulging in Burgatory sin, you can atone with Gluttony Fries, golden french fries encrusted in Parmesan cheese and White Truffle oil. Or plunge into the sweeter side of Burgatory with the Lust, a doughnut skewer with a salted caramel Dulce De Leche sauce. It's downright wicked. Last seen serving up sin at Ryerson University.
---
Photo cred- Jackie McGuinness
11. Kal and Mooy
Kal and Mooy is the answer to your East African cravings. Offering a taste of Somalian cuisine, this one-of-a-kind truck not only dishes out authentic Somalian home cooking, it is served with love by a husband and wife team with a deep passion for food and culture. They go together like a mortar and pestle, which coincidentally is what Kal and Mooy translates to. Locally known for their wraps using 'sabaya' a pan fried Somali flat bread that is topped with a tomato based sauce, spiced chicken or beef,or a variety of vegetables for the vegetarians. Their array of Samosas are also big sellers on this vibrant truck. Will be at Scarborough's Taste of Lawrence July 3-5.