5 Eras of Social Media We'll Always Remember
The typical Toronto Millennial's experience
In this day and age, social media is undeniably an integral part of the human experience. It has become an inescapable force of nature; a ubiquitous phenomenon that we inevitably succumb to, willingly or not. But like all forms of culture, social media has an intricate history; one that traces back to an era of mullets and lava lamps. With a historical evolutionary trajectory that is almost synonymous with that of the Internet itself, social media is so much more than just the Facebook and Twitter media giants that consume our lives today.
Let's go back to what were arguably simpler times – the late 90s to early 2000s. Such were times of Atkins diets and Y2K scares. The streets of Toronto were teeming with Phat Farm sneakers, white tees and baggy pants. Avril Lavigne and Simple Plan were religiously featured on Much Music. Nelly still wore a Band-Aid on his left cheek. Teens wanted nothing more than to be on MTV's "Becoming" or Xzibit's "Pimp My Ride". It was uncommon to witness people checking their cell phones every second; not only because not a lot of people owned cell phones at the time, but also because those that were fortunate enough to own them probably owned Nokia 3310s. So, if they were looking at their cell phones, it was probably because they were trying to beat the "Snake" game.
In general, people didn't have their eyes glued to their desktops (laptops were still rarity to own) and, for the most part, they spent more of their personal time actually living than manning a computer screen for notifications. Yet, social media websites were still increasing in popularity, with teens logging in to various websites when they got home from school to stay connected to their friends.
---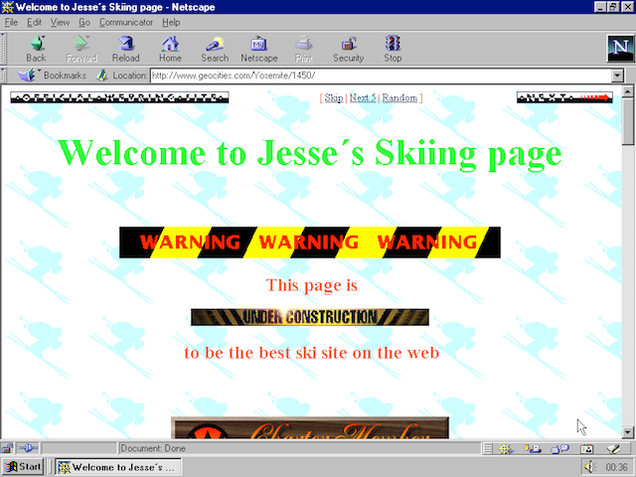 1. GeoCities
One of these websites was GeoCities, which was developed in 1994 but gained momentum around 1999, when it was acquired by Yahoo! GeoCities was essentially a web hosting service, which allowed members to create their own web pages. Having the option to create one's own web page motivated many individuals to pick up the basics of coding languages like HTML so that they could customize their pages to their liking. People had the freedom to share their personal interests, divulge their deepest thoughts and opinions, and express their personality through funky pictures and glittery gifs. If there's anything that is strikingly memorable about GeoCities, it is the infestation of comic sans font, flashy graphics, plain or tiled photo backgrounds and moving marquee texts.
---

Photo cred - CBS
2. SixDegrees.com
Around the same time that GeoCities experienced its peak success, SixDegrees.com was initiated in 1997. This website was established on a six degrees of separation theory, which was the notion that no individual is separated by more than six degrees from another individual. The site had a primitive Facebook-esque concept, allowing members to create personal profiles, invite friends, and organize them accordingly. Users could view the profiles of others, as well as send messages and post on a bulletin board. Though SixDegrees.com peaked to 3.5 million members, overly pushy recruitment seemed too off-putting for the public and led to the early demise of the site in 2001.
---
Photo cred - strawberryscentedburnout
3. Asianavenue, BlackPlanet and MiGente
Then came the rise of the ethnic trinity – Asianavenue in 1997, BlackPlanet in 1999 and MiGente in 2000. These three websites were geared towards specific ethnic groups but were not exclusively limited to them, with membership extending to basically all races. Younger kids often made accounts just to archive graphics and gifs on their page. The more flashy pictures you had on your page, the cooler your page was.
Older teenagers, however, had a more patterned format: a "take of your shoes before you enter my page" (or similar) greeting that came up in a pop-up window, a background wallpaper of some famous singer, rapper or athlete, some hit song of the season (take "Sunshine" by Lil Flip, for example), a gaudy title banner, a profile picture with a personal description beneath it, variously arranged div boxes with random content, and a 'shoutout' section with scrolling pictures of one's best friends. Things got so serious at one point that people started to put a code disabling other users to right-click on their page and steal their HTML codes! And who could forget about Guestbooks? Before there were memes, or 'Like' and 'Retweet' buttons, there were Guestbooks. Similar to posting on someone's Facebook Timeline, a Guestbook allowed users who visited your page to connect with you by posting comments. It was a good way to flirt or cause drama with people at school the next day.
Eventually, Asianavenue would go on to change its format to one that users were not too fond of. As a result, most Asianavenue users moved to another unaffiliated website, Asiantown.net, which had a similar format to the old Asianavenue.
---
4. Friendster and Myspace
The social media landscape began to mature soon after, with the rise of Friendster in 2002 and MySpace in 2003. Friendster used a similar concept as SixDegrees.com to connect its members to each other. It went a little further by adopting elements of online dating sites, and enjoyed a growth in membership to 3 million after a year of being founded. Similarly, MySpace had a very successful social networking run, particularly with the teenage crowd. The site appealed to teens through music and interactive media. A lot of MySpace users dedicated hours of their time to choosing the perfect songs for their profile pages, boasting drop-down lists of their favourite bands, obsessing about their Top 8, or finding the next cool band before their friends. MySpace users were also notorious for high angled, high exposure profile pictures, incredibly detailed 'About Me' sections, status-like bulletin posts, and 'shoutouts' via pictures with messages on paper signs. Also memorable: MySpace Tom. Everyone was his friend =].
---
5. LiveJournal, Formspring.me and Vibe.To
There are some lesser known websites that may have still represented a phase of our lives: LiveJournal, Formspring.me, and Vibe.To. Livejournal was a place where teens could get super expressive and emotional. Sometimes you could get to know even the quietest person in your class just by reading their LJ posts. Having the option to make certain posts public or private allowed users to be socially strategic with their entries.
Formspring.me was a website which allowed users to ask other users questions either publicly or anonymously. The site offered a unique way of communicating with each other; though the latter option made it easy to send people hate mail, which was an obvious downside.
Lastly, Vibe.To was a Toronto-based networking site which took on a similar format to the ethnic sites. Profiles were visually similar to those found on Asianavenue or BlackPlanet, and communication was based on posts to one's 'wall'. Users could also pick a flag icon to accompany their usernames, and it was trendy to pick flags with unique patterns and colours even if it wasn't their ethnic flag.
---
So then, what are your social media memories?