Toronto's 5-Step Hangover Guide
For the nights you can't remember, and the mornings you want to forget.
We've all been there. You wake up, your body is an internal desert, and you're wondering just how many tequila shots your body decided to handle. And wait, who's this guy beside you? Where's your shirt?
All you know is you need a fix, and fast, and we've got you covered. So regardless, you need a pick me up, and this hangover guide is one to bookmark.
Photo cred- Giphy
1. Eat the biggest breakfast you've ever seen.
I suggest AYCE breakfast. Sometimes you need that brunch to reconvene with your friends and piece together the night before, or laugh about what you did. Either way, food is vital. Key places to hit up:
William's Landing // 120 Lynn Williams St
Sunset Grill // 1 Richmond St W
Markham Station // 5117 Sheppard Ave E
Thompson Diner // 550 Wellington St W
The Lakeview // 1132 Dundas St W
---
Photo cred- FuckYeahDash
2. Have a low-key caffeine binge.
Caffeine is probably the biggest essential to a hangover, but you also need some quiet time. If the bar was too loud and you aren't ready for a restaurant again, a café is your best bet for peace, quiet, and the best tasting coffee you've had in a while. Pro tip: green tea is also incredibly teatoxifying. We recommend:
Balzac's Coffee Roasters // 122 Bond St
Jimmy's Coffee // 107 Portland St
Black Canary // 329 Yonge St
Te Aro // 983 Queen St E
---
Photo cred- Betches
3. Sweat out that alcohol.
I know, you're giving me that look. But seriously, hot yoga is one of the best things for a hangover and you feel brand new after. Okay, not quite, but you really won't feel like you drank the night before. Even just walking home or out in the fresh air will help to clear your head and body of the previous toxins! Head over to:
Downward Dog // 735 Queen St W
Barreworks // 2576 Yonge St
CYKL // 68 Bathurst St
Spynga // 1415 Bathurst St
Octopus Garden // 967 College St
---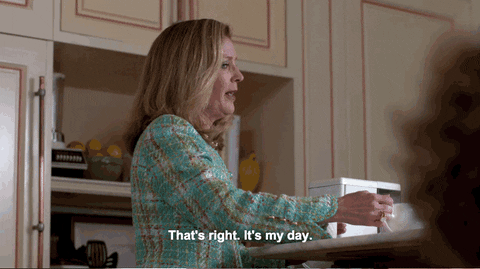 Photo cred- Giphy
4. Spoil yourself.
Treat yourself to the best day possible, even if it's a tiny dose before work. Get your nails redone (they're likely chipped), a massage from the drunk stumbles, or even some shopping to replace last night's ruined outfit (or replace your walk of shame choice). Check Groupon before to get even cheaper deals for this indulgence!
Get Gelled // 12 Irwin Ave
Nailsense // 2712 Yonge St
Body Blitz // 497 King St. E
Stillwater Spa // 4 Avenue Road
This also gets you up and out of the house, as opposed to hangover naps. But...
---
Photo cred- Her Campus
5. If all else fails..
Netflix. So much Netflix. It won't take THAT long to binge through Scandal, right? I suppose we're all entitled to our post-drunk naps, if we can do them. Staying in bed isn't the WORST idea!