20 Incredible Movies That Were Filmed In Toronto
Some may surprise you.
Toronto's ability to morph into a variety of American cities makes it attractive to directors and producers trying to get the most bang for their buck. Our city offers unique vistas and state of the art production companies that can transform Toronto into a Dystopian metropolis like that in Cosmopolis or a city over run by video game characters like in Pixels. Here is a list of 20 of Toronto's best cinematic representations. Can you spot the Toronto landmarks?
Photo cred- Jake Cadaverous
1. Total Recall
This 2012 big budget remake pitted Colin Farrel against a corporation that could implant and erase memories. Slightly different than the original 1990's film starring Arnold Schwazenegger, this version was shot at a variety of locations around Toronto. One of the most identifiable landmarks is UTSC's meeting place which doubles as an intergalactic space port.
---
Photo cred- John R. Kennedy
2. Pixels
This 2015 summer blockbuster is in theatres on July 24th and features our favourite Lannister from Game of Thrones, Peter Dinklage. Comedians Josh Gad, Adam Sandler and Kevin James also star in this fun family hit. Featuring battles throughout Toronto's downtown core, Pixels is what happens when aliens get a hold of all our favourite video games.
---
Photo cred- Fansshare
3. Kick-Ass 1 & 2
Capitalizing on the super hero phenomenon Kick Ass is what happens when regular people decide to fight crime, in disguise. The original film released in 2010 immediately gained a huge cult following prompting a sequel starring Toronto's own Jim Carey in 2013. The distinct Dip 'n Sip Donuts at Kingston rd. and Main street is featured in the first film when Kick Ass gets he butt kicked it front of it. Parts of the second film in the franchise were filmed in a residence in Mississauga.
---
Photo cred- Cinema Enthusiast
4. Bride of Chucky
One of the older films on the list this horror series featuring a naughty, voodoo possessed doll filmed its third incarnation all around Toronto in 1998. Canada's own Jennifer Tilly stars as Chucky obsessed woman who has her soul transferred into a doll, Chuky's wife. Shops on Kingston Rd. in Scarborough can be seen when the little hellions are running amok. Lakeshore Blvd, Parliament St. and Front St. where also used as locations. Even the popular Clifton Hills in Niagara Falls was visited by this terrible twosome.
---
Photo cred- Dragonlordxxxxx
5. Suicide Squad
Slated for release in the Summer of 2016 is the action packed story of some the worst villains in comic book history coming together to fight crime? This sure to be major motion picture took over Yonge and Dundas Square and shut down portions of the downtown core this Spring. With an all star cast including Will Smith and Jared Leto fans were seen flocking to the outdoor square we all love to see if they could catch a glimpse of their favourite stars. The iconic Batmobile was even seen cruising Yonge Street, such a Torontonian move.
---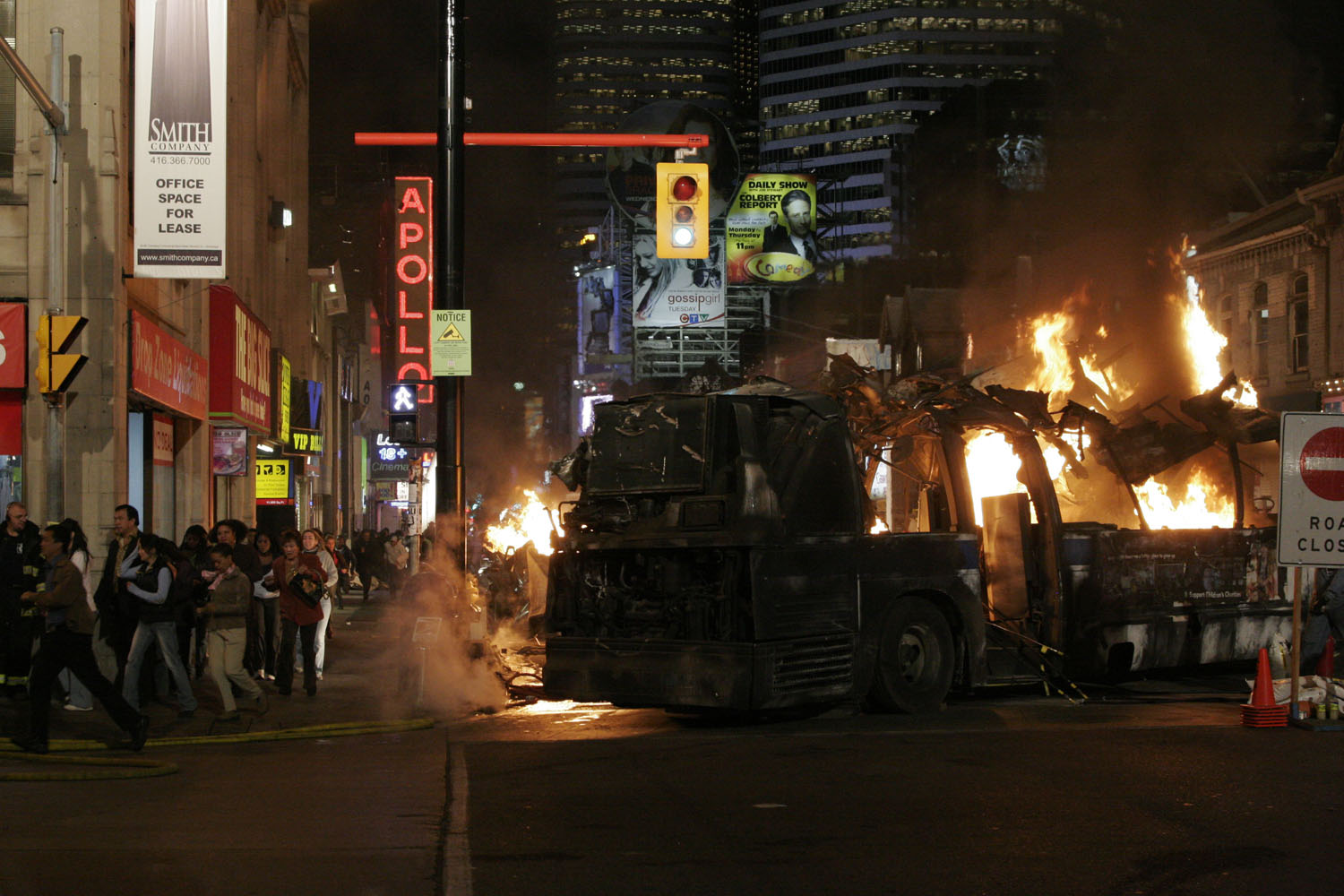 Photo cred- JvG
6. The Incredible Hulk
Long before Mark Ruffalo was our favourite angry green monster hanging out with the Avengers, Edward Norton was a much more pensive Hulk in 2008. Morningside Park in the Rouge Valley and just off of Morningside Avenue was home to one of The Incredible Hulk's early fight scenes. Yonge Street and the St. George Campus of UofT can also be seen briefly in the film.
---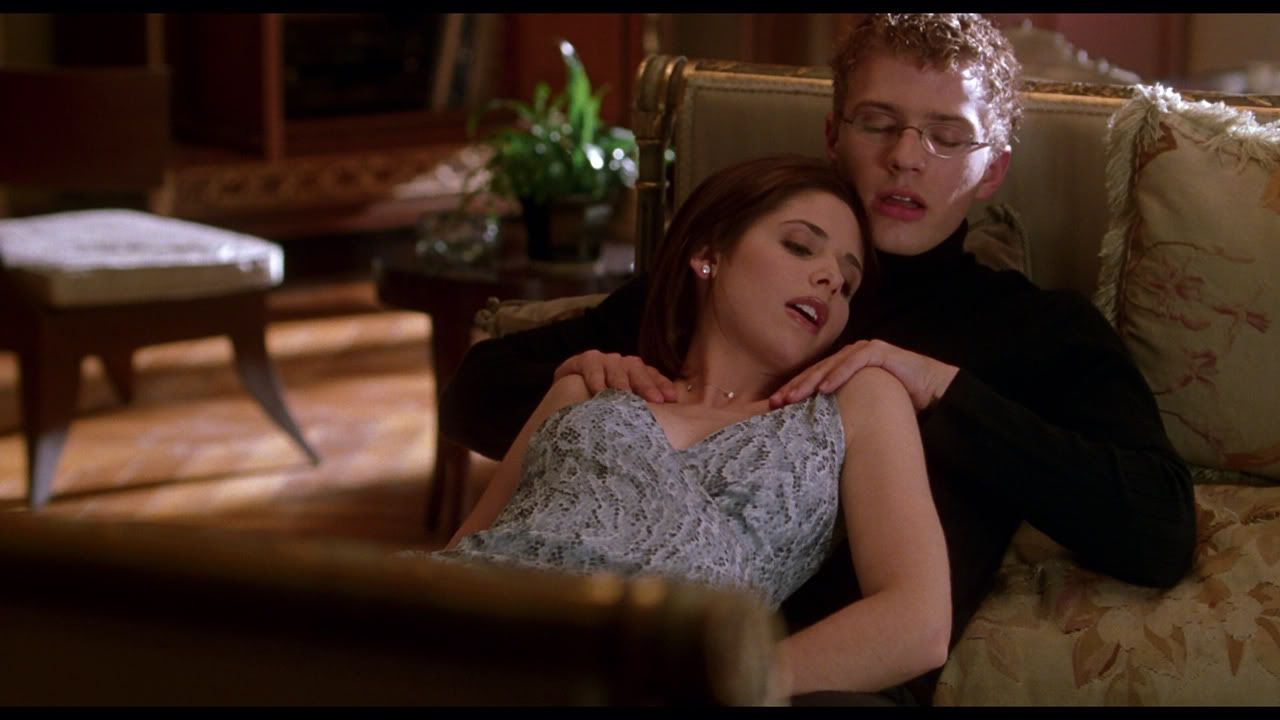 Photo cred- Kuzia495
7. Cruel Intentions
This 1998 teen drama brought us a new side of Sarah Michelle Gellar as well as the union of Reese Witherspoon and Ryan Phillipe. Parts of this star studded affair were filmed inside the Old Don Jail near Broadview and Gerrard. After that section of the prison officially closed in 1977 it became a popular set location for a number of films and TV shows.
---
8. 54
Ryan Phillippe was back in the Big Smoke a year after filming Cruel Intention (1999) for this disco driven tale set in the late seventies. 54 is the fictional story of the notoriously decadent New York nightclub, Studio 54 told through the eyes of a first star-struck and eventually jaded Phillippe. Scarborough native Mike Myers plays the eccentric Lord of the Disco, Steve Rubell the owner and founder of Studio 54 who was known to hand-pick each Studio 54 club-goer. Canadian actress Neve Campbell play coquettish actress. Probably because of its beautiful late nineteenth century architecture the Old Don Jail was again a popular set location for this production.
---
Photo cred- Miramax
9. Good Will Hunting
This 1997 feel good film won Matt Damon and Ben Affleck a screen writing Oscar. Featuring the late Robin Williams who won the best supporting actor Oscar for his role, Good Will Hunting is about a street smart young man who is also a math whiz. Aside for the best screen writing award won by Damon and Affleck and Williams' trophy Good Will Hunting was nominated for nine Academy Awards in total at the 70th Academy Awards. The former Upfront Bar and Grill on Front street doubled as the Harvard bar in this film about Boston and various lecture halls from UofT were used as well.
---
Photo cred- Gordon Cox
10. American Psycho
Before Christian Bale was the Dark Knight he was psychopath Patrick Bateman in American Psycho, the film adaptation of the novel of the same name written by Bret Easton Ellis. In one of the many iconic scenes from the movie Bale passive-aggressively fights with his oddly similar colleagues over business cards, the scene was filmed inside the TD Centre on King St.
---
Photo cred- Sammie Hendley
11. Chicago
This over the top musical made female inmates cool long before Orange is the New Black. Released in 2002 and starring Renee Zellweger, Catherine Zeta-Jones and Queen Latifah Chicago is all about entertainment, media spin and prison. Shot at multiple locations around Toronto including: The Elgin Theatre, Osgoode Hall and Union Station, Toronto easily passes for early 19th century Chicago.
---
Photo cred- Film Grab
12. Cosmopolis
Canadian filmmaker David Cronenberg wrote produced and directed this 2012 film. I brief shot of Union Station can be seen early in this dystopian tale about a car ride and patterns. Featuring Robert Pattison, Cosmopolis is a sleekly styled film that is visual appealing.
---
Photo cred- MGM
13. A Christmas Story
This Christmas classic is a holiday staple and has developed an enormous cult following, you can even purchase your own leg lamp. This quirky Christmas tale is the story of young Ralphie and his desperate longing for a Red Rider BB Gun. Ralphie's famous flat tire swear scene was shot on Cherry St. in the Port Lands in 1983.
---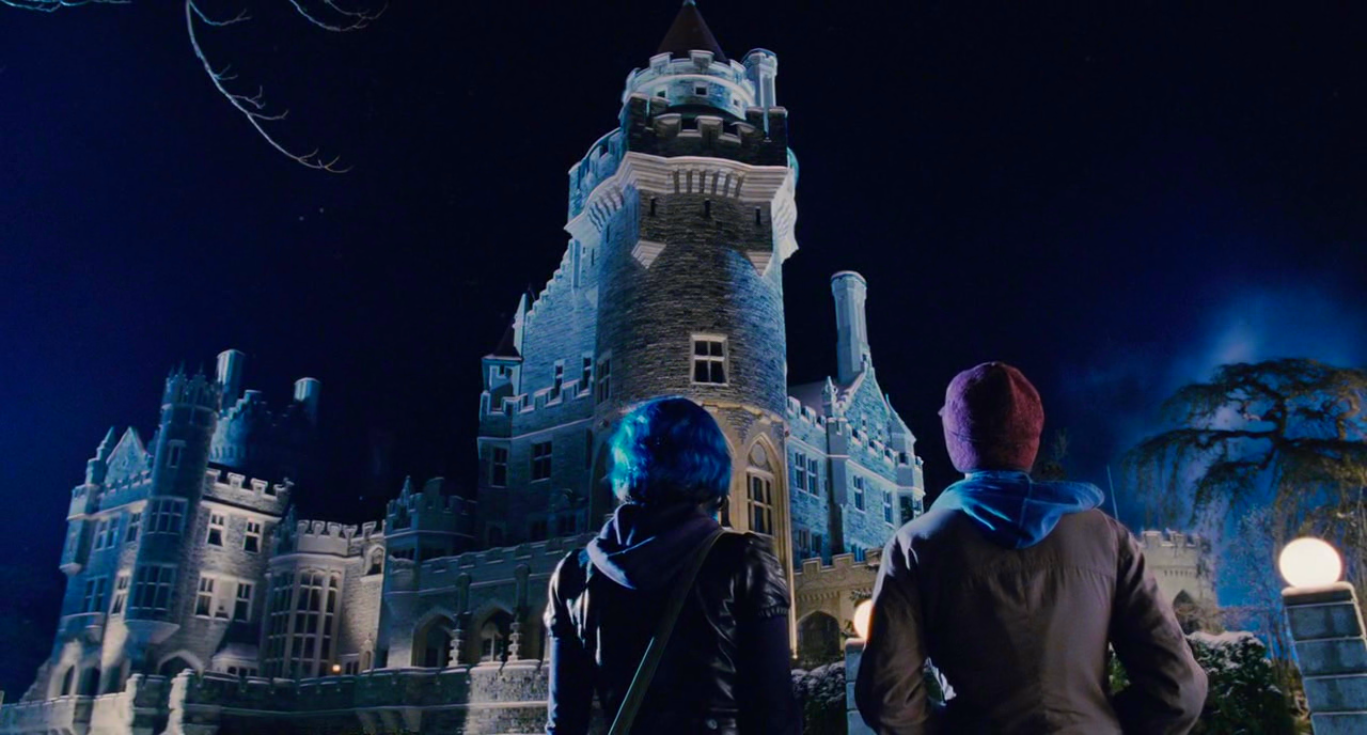 Photo cred- Wikia
14. Scott Pilgrim vs. The World
Adapted from a graphic novel 2010's Scott Pilgrim vs. The World stars Michael Cera as a teen who must battle all his new girlfriend's exes. Utilizing a bunch of iconic Toronto landmarks like Lee's Palace, The Annex , Bloor Cinema and Toronto's most regal location of all, Casa Loma. Scott Pilgrim vs. The World does a great job of paying homage to the popular graphic novel ans captures the feel of the fringe culture in Toronto magnificently.
---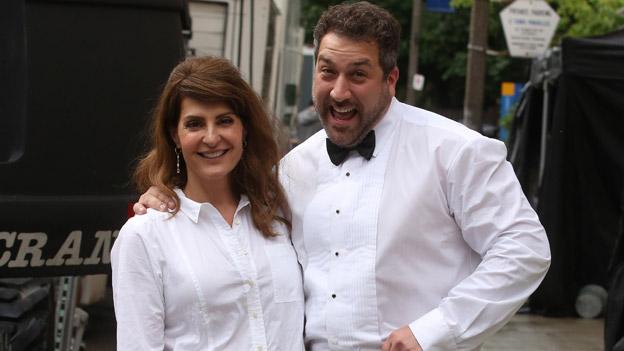 Photo cred- etalk
15. My Big Fat Greek Wedding
My Big Fat Greek Wedding is a hilarious look at the ups and downs of family, love and weddings. Released in 2002 this Greek love story used Ryerson's downtown campus and the Danforth (Greek Town, of course) to convincingly pass for Chicago. Canadian actresses Nia Vardalos and Andrea Martin star in the original film and the upcoming sequel which is currently filming in Toronto. Be on the lookout for John Stamos a.k.a uncle Jessie who is in part two.
---

Photo cred- Paramount Pictures
16. Mean Girls
Toronto filled in for Chicago yet again in 2004's insanely popular teen dramoedy? Drama/comedy? Featuring an up-and-coming local talent Rachel McAdam, as well as Lindsay Lohan, Tina Fey and Amy Poehler, Mean Girls has spawned countless memes and small contingent trying to make the word 'fetch' happen. You can spot UofT's Convocation Hall, Sherway Gardens and Etobicoke Collegiate in this teen tale of angst and acceptance.
---
Photo cred- Sean Kelly
17. X-Men
This multi-million dollar powerhouse film franchise got its start right here in The Six in 2000. The first film in the series was filmed all around our city, Casa Loma was used for Professor Xavier's home, and Toronto's favourite Christmas cobblestone courtyard Gooderham and Worts in the Distillery district was transformed into a Concentration camp.
---

Photo cred- Warner Bros.
18. Pacific Rim
This time the streets of downtown Toronto was made to look like a Japanese war zone by filmmaker Guillermo De Toro. Elizabeth St. near Yonge and Dundas was taken over in 2013 to film scenes for this international hit. Starring Sons of Anarchy star Charlie Hunan, Pacific Rim is a non-stop action ride like Wonderland.
---

Photo cred- Claratsi
19. Cocktail
This 1988 blockbuster launched Tom Cruise into sex symbol status and simultaneously spawned your favourite Beach Boys song Kokomo. One of the first films to feature flair bartending a young Tom Cruise shows off his mixology skills in a nightclub ironically called The Cell Block. Ironic because it was filmed in the old Don Jail's rotunda which was fashioned to look like a New York hot spot.
---
Photo cred- Mr. Will Wong
20. Pompeii
Dubbed a historical disaster romance Pompeii brought Game of Thrones hottie Kit Harrington to Toronto in 2013. It is the fictional story of the final days of the great Italian city Pompeii that was destroyed when Mount Vesuvius erupted in 79 AD. Filmed almost entirely at the Cinespace film studios on Kipling Ave this marks the first time Toronto filled in for an Ancient Italian city.
---