Drake Was Looking Like The 6 God At Wimbledon This Week
Of course Drake would tie his sweater around his neck.
With tennis' biggest event, Wimbledon, going strong this week in England, who else but Drake to be there and take in some of the action. Drake has been in Britain during the past few weeks, representing the 6 the best he can, as always.
Last week Drake was shooting free-kicks with Chelsea goalkeeper Didier Drogba, and now this week he was seen taking in a tennis match or two at Wimbledon's Centre Court. If he isn't bringing out British-rapper Skepta during his set at the Wireless Festival in London, he is eating a bowl of strawberries and cream at Wimbledon.
---
Photo cred. - Chris Chase
Who knew Drake was a tennis fan? He looks to be pretty into the match here, and is even wearing all-white; a well-known Wimbledon tradition. Also, note R&B-star John Legend and model-wife Chrissy Teigen seated below.
---
Photo cred. - Chris Chase
It looks like Drake lightened up a bit between points. The self-proclaimed "6 God" deserves a little relaxation time too you know.
---
Photo cred. - Foster Kamer
When Drake wasn't taking in the Serena Williams versus Venus Williams match, he was representing the 6 the best he could, mingling with numerous tennis stars and legends. Here he is with current No. 1 ranked men's tennis player Novak Djokovic.
---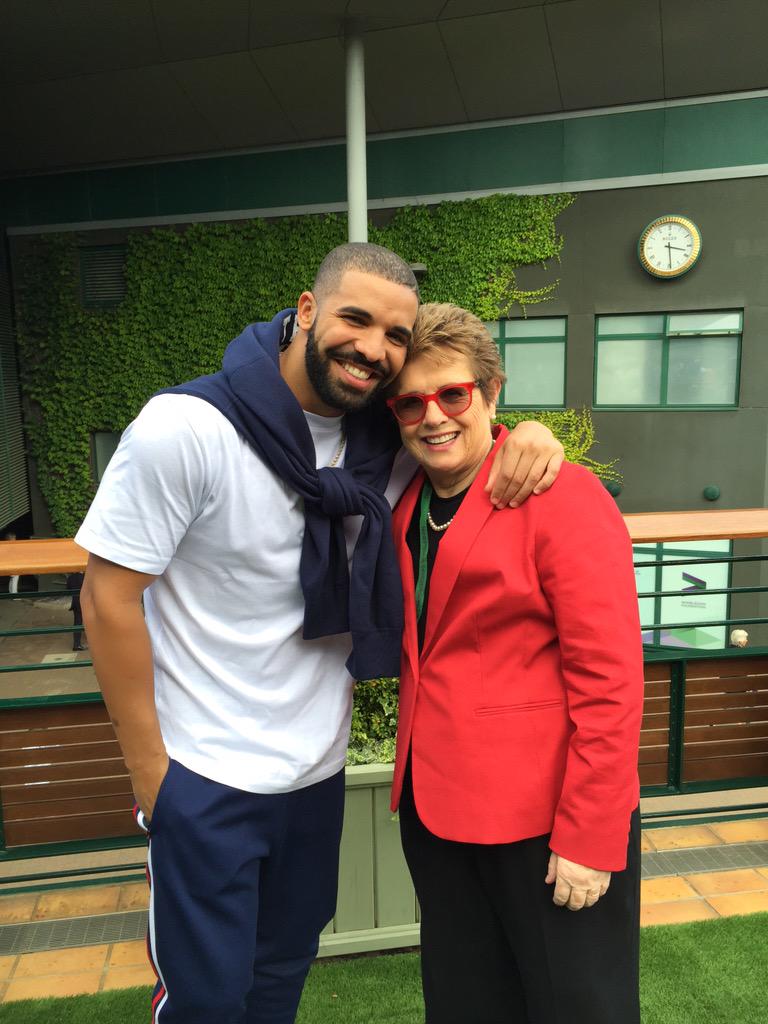 Photo cred. - Billie Jean King
Somewhere between watching tennis and tying his sweater around his neck, he found time to cozy up with tennis legend and equal-rights activist Billie Jean King. Seriously though, isn't this just THE cutest?
---
Photo cred. - Mike Egerton
Drake looking very cordial with Venus after she lost to her sister, Serena, two days earlier. You'll remember that Drake has a rumoured romantic past with Serena, even drawing the ire of fellow rapper Common. Following this picture, Drake and Venus took in Serena's match versus Victoria Azarenka, leading some to believe that he is seeing Serena once again, or simply being the good guy that he is. You never know.
---
Photo cred. - Nick Schwartz
Finally, here he is with John McEnroe, the fiery-American legend, as it looks like the pair planned out matching purple outfits. Awesome work guys! But seriously, whether he's representing Toronto with his dad-style sweater around the neck or simply mean muggin' at Centre Court, Drake is what the 416 is all about!