22 Jacksonville Groupons You Must Take Advantage Of This December 2018
The most fun and bang for your buck!
It's no secret that there's a lot to do in Jacksonville, so we're here to tell you about the best Groupon deals to help you have the most fun on your budget!
Art classes, top restaurants, and fitness centers are some of the attractions that are as exciting as the deals being offered!
Plan a date with your S/O, spend a night out with the girls, or treat yourself to some solo time with these incredible discounts. You don't have to spend a million bucks to have a great time!
Bravoz Entertainment Center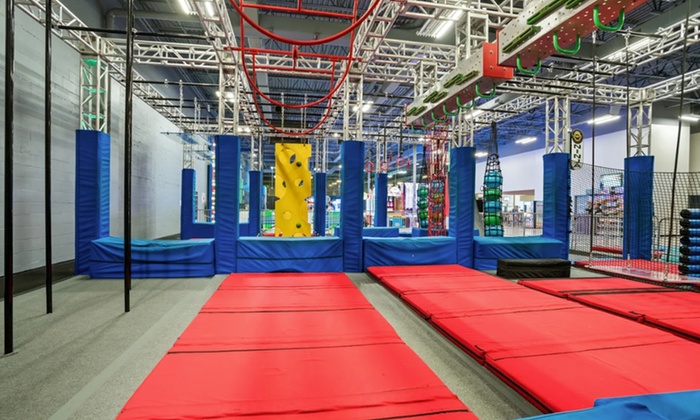 Via Groupon
Original Price: $70
Savings: $25 (36% off)
The fun at Bravoz Entertainment Center is endless! Choose from laser tag, trampolines, a ninja course, bowling, and a rock wall for one to three hours of adventure! Even though the admission is discounted, the fun definitely isn't!
Holistic Hands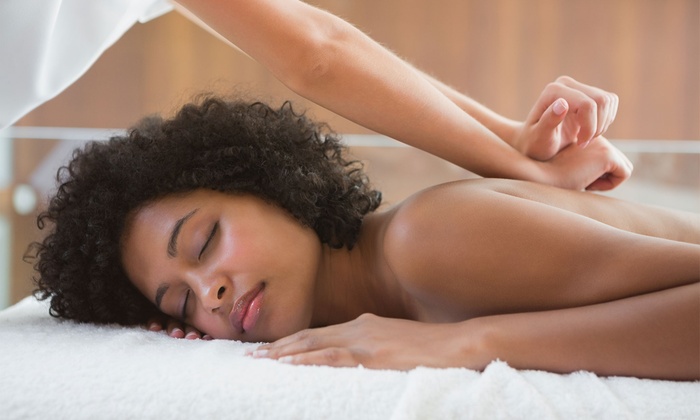 Via Groupon
Original Price: $100
Savings: $51 (51% off)
As the holidays near, to-do lists lengthen. Take a break from the hustle and bustle and indulge in either a 60 minute or a 90 minute massage at Holistic Hands! You deserve it and this deal will allow you to pamper yourself at less than half of the original cost! So what are you waiting for? Schedule your massage ASAP!
Open Grill Cafe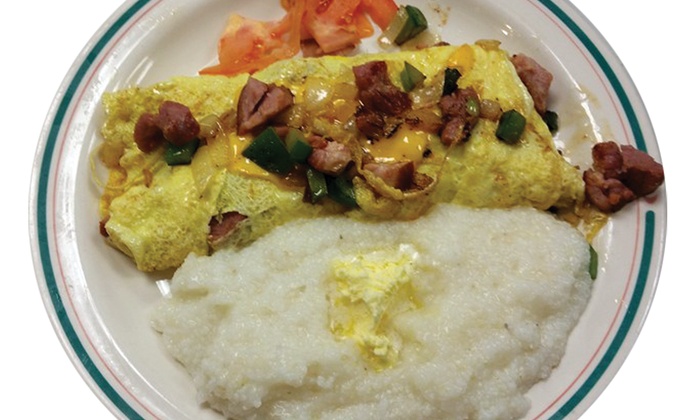 Via Groupon
Original Price: $20
Savings: $10 (50% off)
Dig into the delicious food at Open Grill Cafe for 50% off! That's right, you can enjoy breakfast or lunch for only half of the cost! Known for their omelets and burgers, Open Grill Cafe is a top choice for dining in the Azalea Terrace area of Jacksonville!
Full Psycle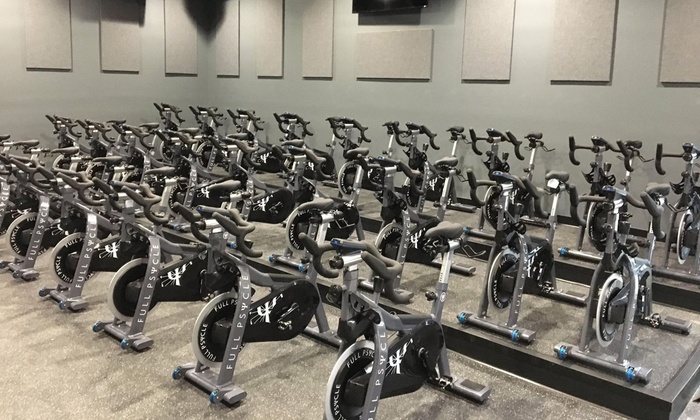 Via Groupon
Original Price: $110
Savings: $65 (59% off)
At over 50% off, you can ride at one of the premier cycling studios in Jacksonville! Good for five sessions, you'll be amazed at the strength and endurance you'll build while having a blast of fun at Full Psycle!
Wine and Trucks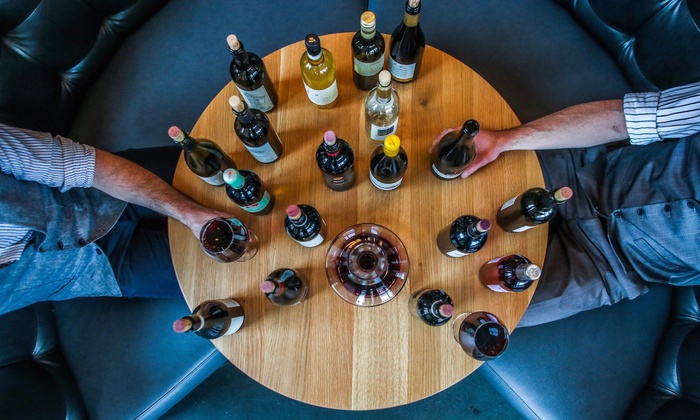 Via Groupon
Original Price: $35
Savings: $17.50 (50% off)
Food trucks and wine? We're all in for this deal from Wine and Trucks at the Seawalk Pavilion! During the community food and wine festival hosted by Edible Northeast Florida will bring to Jacksonville some of the best casual eats and wine tastings in the area! This deal is your chance to take part in the wine tasting portion for half of the cost! Make it a fun afternoon with friends by purchasing a Groupon for everyone!
Intracoastal Chiropractic Clinic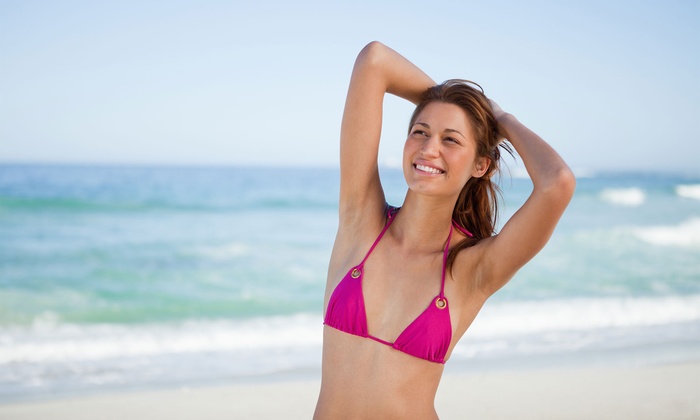 Via Groupon
Original Price: $750
Savings: $651 (87% off)
Here in Florida, we wear swimsuits year round and unwanted hair is the last thing we need to worry about! Intracoastal Chiropractic Clinic is offering multi-session packages for laser hair removal at seriously discounted rates! Choose from packages for either small or medium areas, and take advantage of this deal at 87% off!
Plant Nite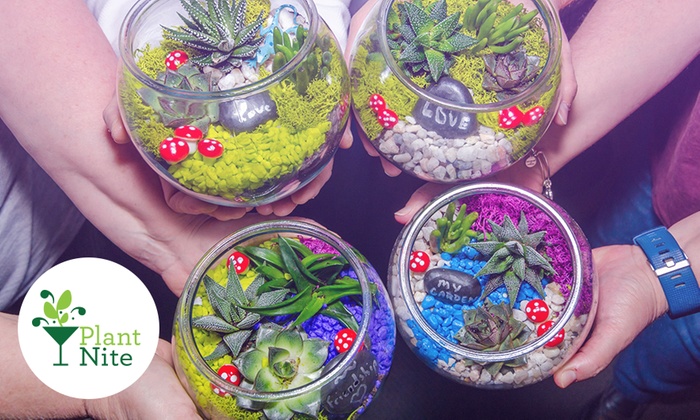 Via Groupon
Original Price: $45
Savings: $16 (36% off)
Plant Nite is the creative workshop that travels to local restaurants and bars in the Jacksonville area. Learn to make your very own terrarium while dining at your very spots around town! Plant Nite will introduce you to a new and extremely fun creative outlet that will teach you how to craft DIY terrariums that make for great home decor and holiday gifts!
Authentic Touch (foot massage)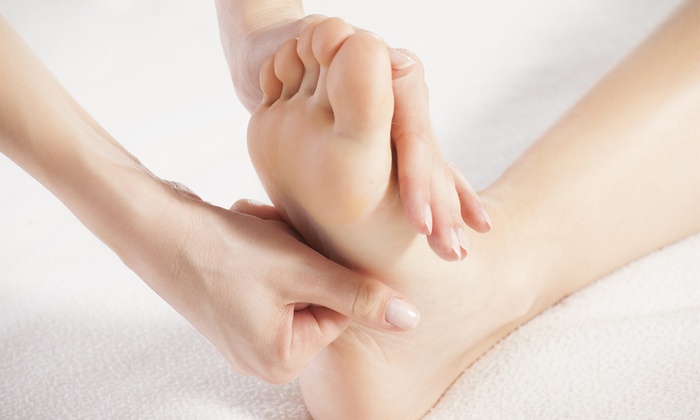 Via Groupon
Original Price: $70
Savings: $25.50 (36% off)
After a long week, is there anything better than a foot massage?! Authentic Touch is offering patrons a 60 minute foot massage deal complete with hot stones, a cucumber heel therapy treatment, and the ultimate experience in relaxation. So kick your shoes off and enjoy an hour of pampering at a fraction of the full cost!
Class Axe Throwing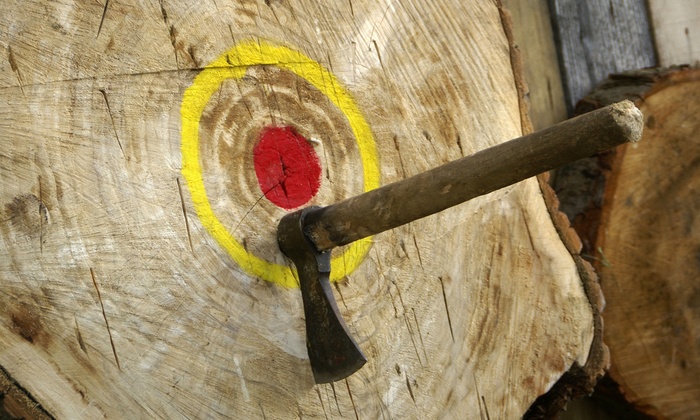 Via Groupon
Original Price: $64
Savings: $12 (19% off)
Try something new and adventurous by learning how to properly throw an ax! We promise that it's loads of fun! Class Axe Throwing teaches participants how to safely and properly hurl axes for a throwback to the time of the Vikings. The studio offers teambuilding classes that make an excellent choice for your next birthday or office party! Talk about building trust!
Hot Spot Power Yoga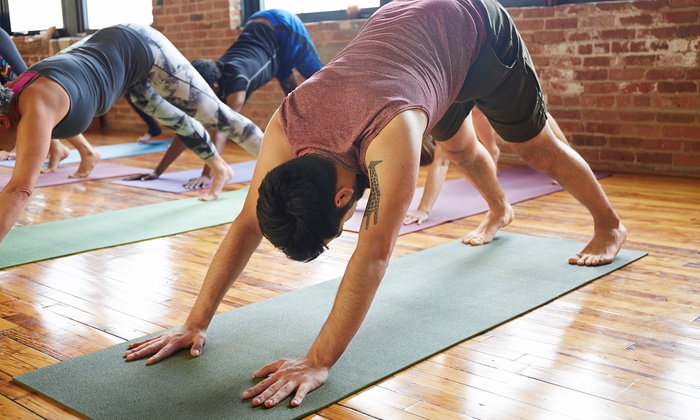 Via Groupon
Original Price: $89
Savings: $55 (62% off)
This power yoga studio is offering a full month of classes for only a fraction of the cost! Hot Spot Power Yoga is your go-to for practicing Baptiste power yoga and joining a community of positive, fit members. And if you're expecting a little one, the prenatal yoga classes at Hot Spot Power Yoga are extremely well rated!
Velocity Air Sports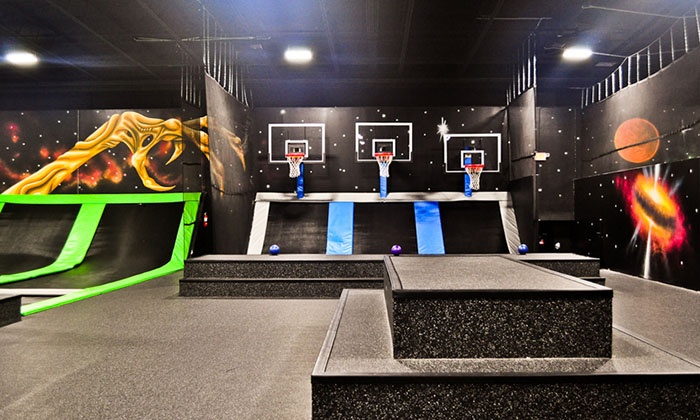 Via Groupon
Original Price: $30
Savings: $10.50 (35% off)
Put some spring in your step (literally!) with the spring floors and trampolines found at Velocity Air Sports! Choose between two or four passes, valid for 60-minute sessions each, and get a bouncing workout in as you play trampoline basketball and swing into the foam pit. It's a fun time all around!
All Wet Sports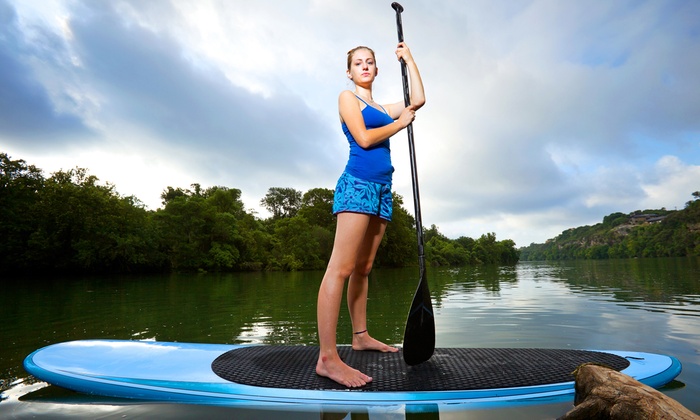 Via Groupon
Original Price: $40
Savings: $18 (45% off)
Enjoy the Florida sun and cool fall weather while paddleboarding with All Wet Sports! Relish the beauty of the waterways through Big Pottsburg Creek and keep an eye out for local marine life. Challenge your crew to see who can spot a manatee first!
Paint Nite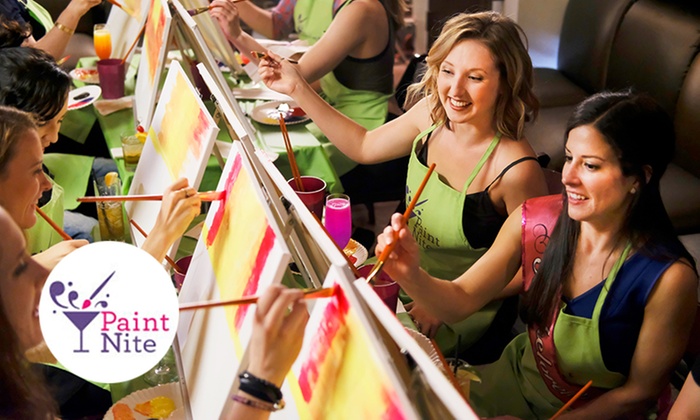 Via Groupon
Original Price: $45
Savings: $16 (36% off)
Paint Nite is Jacksonville's premier social painting attraction that prioritizes community and creativity! Paint Nite sets up shop in various bars and restaurants around town so that you can enjoy painting with your friends while sipping on a beverage or two! Grab this Groupon and then keep an eye on the calendar for the next Paint Nite near you!
The Arts Corner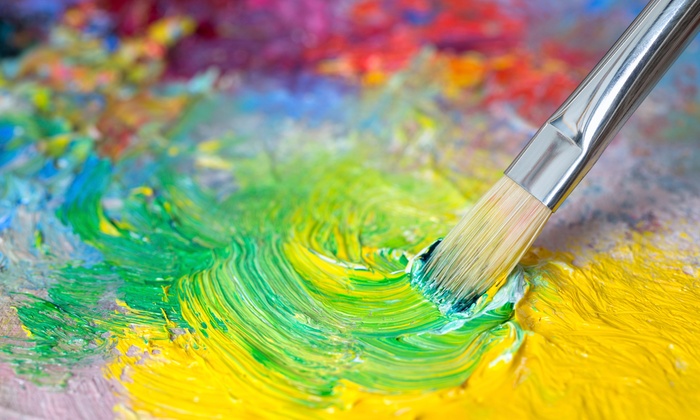 Via Groupon
Original Price: $25
Savings: $9 (36% off)
If you have little ones, then you're both in luck with this discounted painting deal from The Arts Corner! While you're taking advantage of the deal from Paint Nite, your children can enjoy classes from The Arts Corner, a studio designed just for kids! Now the whole family can wear smocks and get in touch with their inner Picasso. Just think of all of the paintings you'll have to adorn your home's walls!
Jacksonville Skydiving Company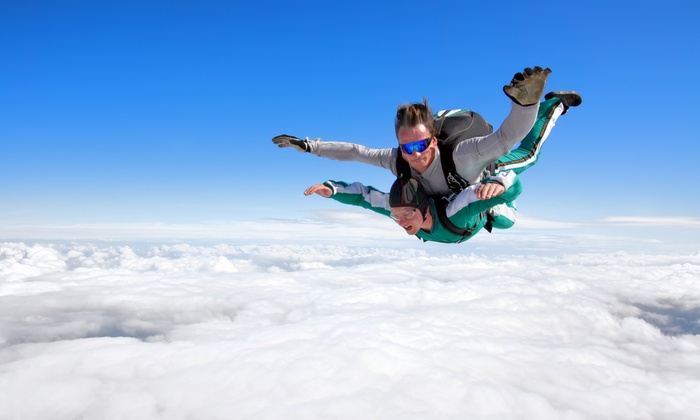 Via Groupon
Original Price: $299
Savings: $150 (50% off)
Are you hungry for an adrenaline rush? You're in luck! Now you can cross sky diving off of your bucket list with this half off deal from Jacksonville Skydiving Company. Choose from tandem jump options good for one person or two people, the latter of which would make for an awesome date with bae! The couple that free falls together stays together, right?!
The Stout Snug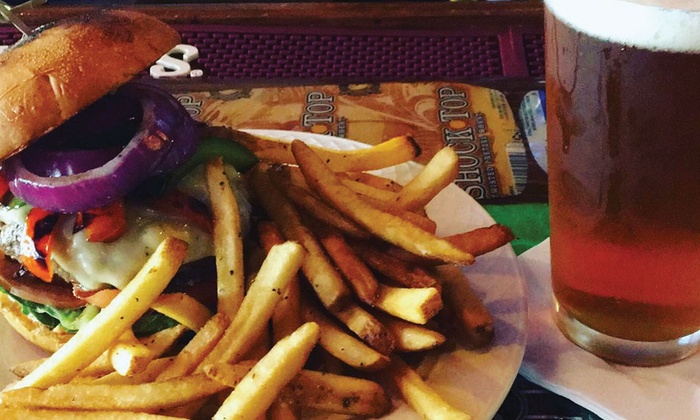 Via Groupon
Original Price: $30
Savings: $15 (50% off)
Burgers, fries, and beer? We're all in for this deal from The Stout Snug! Enjoy half off of this delectable fare. With such a steep discount, it's one of the best and tastiest discounts around!
Jacksonville School of Music

Original Price: $110
Savings: $50 (45% off)
Get in touch with your inner Mozart and enjoy a month of lessons at the Jacksonville School of Music. Whether you want to tune up your skills or you're looking to pick up a brand new instrument, this deal makes learning to play affordable and fun!
The Edge Rock Gym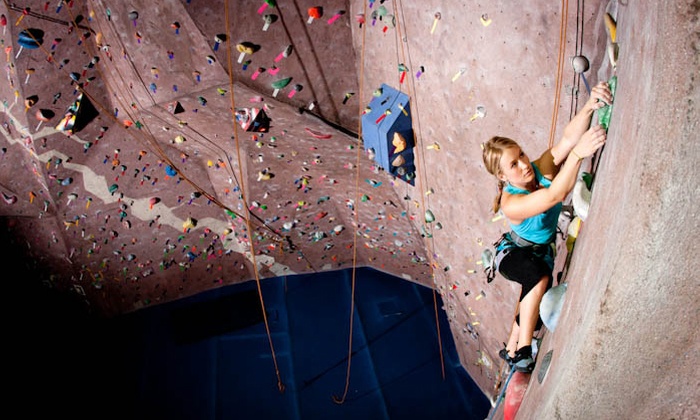 Via Groupon
Original Price: $19
Savings: $3 (16% off)
The Edge Rock Gym is a leader in climbing wall fitness, and they're currently offering discounted admission to climb! Choose between a pass for just yourself, or bring a friend and get a deal good for admission for two people. New to climbing? The staff at the gym are trained and ready to teach you the basics so that you can start scaling new heights!
Elite Salon & Day Spa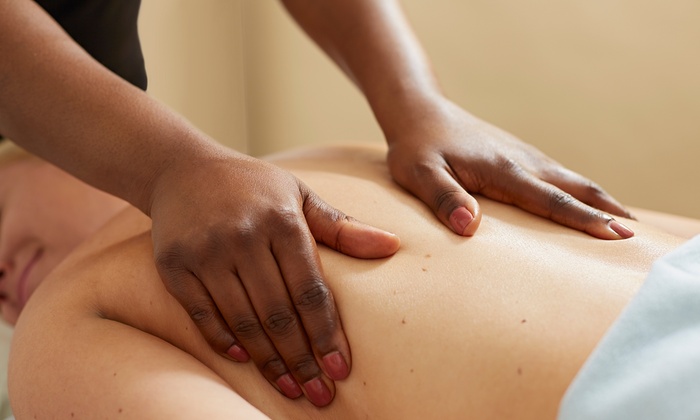 Via Groupon
Original Price: $79
Savings: $28 (35% off)
Take some time for yourself as you unwind with a 50 minute massage designed specifically for stress release. Elite Salon and Day Spa is a premier spot for luxury spa treatments, and with this Groupon deal you won't have to break the bank to treat yourself!
Beach Bowl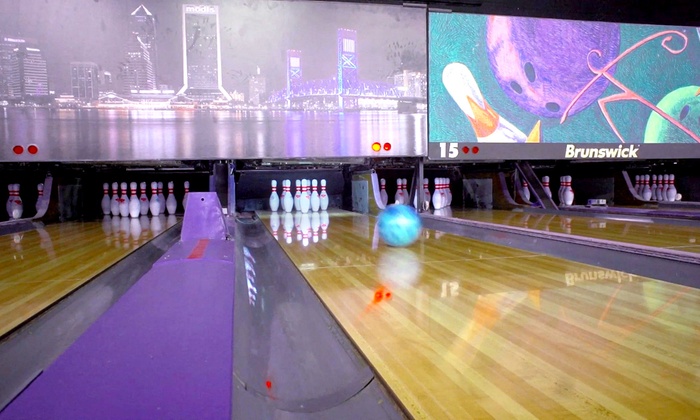 Via Groupon
Original Price: $64
Savings: $26 (41% off)
Bowling and beer? Yes, please! This awesome deal from Beach Bowl includes two rounds of bowling, shoe rental, and your choice of beer or soda. It's a winner of a package deal! After you bowl, challenge bae to a game of pool or video game in the arcade.
Beautifully Divine DIY Wood Craft Studio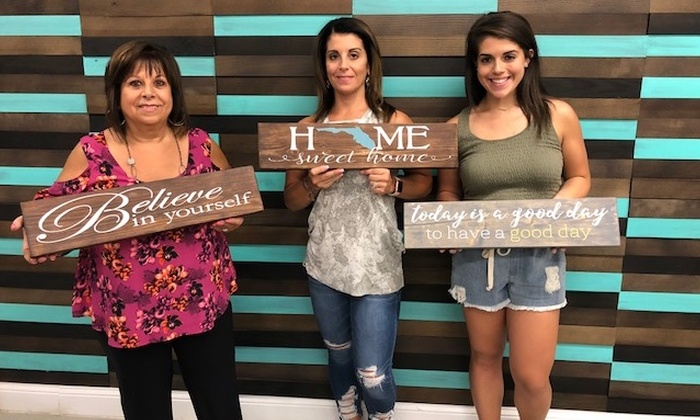 Via Groupon
Original Price: $60
Savings: $33 (55% off)
Do you have DIY fever? Then you don't want to miss out on this deal from Beautifully Divine DIY Wood Craft Studio! Go with friends, your S/O, or by yourself to meet new people while you create a wooden sign to hang on your wall or front door. Think a rustic-chic piece that all of your neighbors will envy!
Fit Body Boot Camp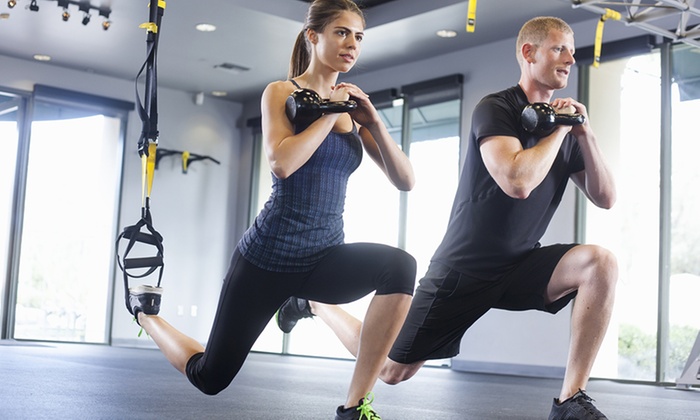 Via Groupon
Original Price: $185.25
Savings: $136.25 (74% off)
December is one of the tastiest months of the year with Thanksgiving turkey, holiday ham, and a plethora of other delicious dishes. Between holiday parties and family gatherings, it's important to prioritize healthy habits during this time of the year. Burn off the holiday calories with three weeks of unlimited boot camp training at Fit Body Boot Camp! And if three weeks isn't enough, there's also a five-week option for an equally as desirable discount!