EN - Travel
You deserve the reality show life!
MTV used to have the best reality shows like Pimp My Ride, True Life, and The Real World. If you were a fan of The Real World, this might just make your heart sing. You and your friends can actually stay in the giant mansion used to film 2006's The Real World Key West.
This little slice of MTV history is separated into 2 houses: the Main house and the Racket Ball house - it is MASSIVE. The main mansion can sleep 16 people across 8 bedrooms, but you can sleep up to 20 people by adding the optional Racketball House that has 2 bedrooms. Not to mention the jacuzzi and pools all nestled on waterfront property.
Both houses together feature 5 & 1/2 baths, 14 plasma TVs, a pool table, tennis court, racket ball court (optional with the Racket Ball House), hammocks to laze the day away, basketball court, gym, 60-foot deep boat dock, jacuzzi, pool and secondary protected wind/wave boat dock. This place is like a mini resort!
It's insanely funky with fun bright colors, themed rooms, eclectic decor and patterns just like how we remember it on MTV. Check out some photos from The Real World Key West house below: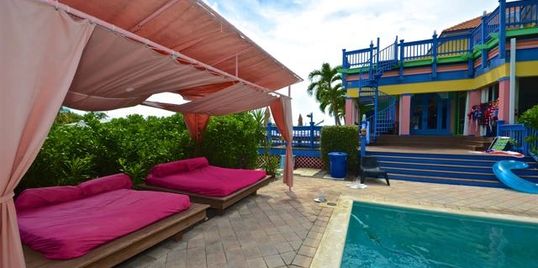 via The Real World House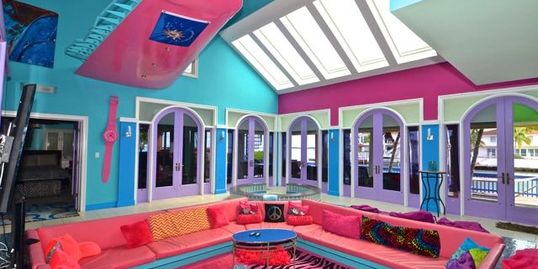 via The Real World House
Guests will have access to the entire property with 500 feet of it directly on the water, as well as 20 plus bikes, 7 kayaks, and 5 paddle boards for an unforgettable stay.
With all those bells and whistles and for being on T.V, this house is sure to have a pretty price tag. The Airbnb listing posts this mansion for a whopping $1999 a night ($2400 if you're adding on the Racket Ball House). If you're only going with the main house and sleeping the full 16 with your crew, that's about $125 a person.
It's a bit more than what you'd pay for a hotel, but you're getting an entire mini resort to yourself and your closest friends. It might be worth saving up for a huge BFF getaway, or to book the most unique bachelorette party. It's in a quiet and secluded area of Key West but is still close to a nearby town to enjoy everything Key West has to offer.
95% of guests have given this Airbnb a 5-star rating for both cleanliness and accommodations. The minimum stay is only 1 night too, so you don't have to commit too much of your vacation fund for this awesome pad.
If you don't think you'll be renting this, that's okay. You can watch a video tour of another group's stay at the house from Youtube below:
If you're not familiar with The Real World - it was a show where they took 7 strangers and made them live in a house together and everything they did was videotaped and aired on MTV. You can experience that nostalgia by watching the intro to their season below:
You can book your stay at this property through Airbnb here, or through owner Andrew's website here, where he offers discounted rates for during the offseason and for smaller groups.