You Can Spend The Night Glamping In Florida At This Luxurious Tent For Super Cheap
Intimate and cozy stay-cations in a glamping tent will call your name for only $105 a night.
A majority of the Sunshine State is littered with highway traffic and bustling coastal cities. From time to time, we just need a little weekend getaway to refresh and restart, away from all the people. If you're looking for an intimate and cozy stay-cation, this luxury glamping tent will be calling your name - and it's only $105 a night.
According to the information on Airbnb, the luxury tent will comfortably sleep 2 guests on a single king size murphy bed that hides away during the day for you to enjoy the rest of the gorgeous space. This tent also includes a small kitchenette, full bathroom with rain shower head, air conditioning wifi access, cable tv, a huge deck, a fire pit, and you even have alpaca neighbors!
At $105 a night for up to 2 guests - that's only $52.50 a person; that's a lot less than you'd pay for many hotels here in Florida, and none of them have the same ethnic flare and access to nature like this tent does - with all of your creature comforts.
The Danville Yurt has been described by guests as the most romantic stay ever and that the photos and advertisement on Airbnb didn't do their experience justice - 95% of their recent guests even gave a 5-star rating with glowing comments.
The tent sits on a large deck that wraps around, with a spot for you to light a fire and star gaze once the sun goes down. Whether it's a romantic night under the stars with your boo or night for just you to unwind and disconnect, either way - you'll want to bring a bottle of wine!
Check out a few shots of this cute and cozy yet spacious place: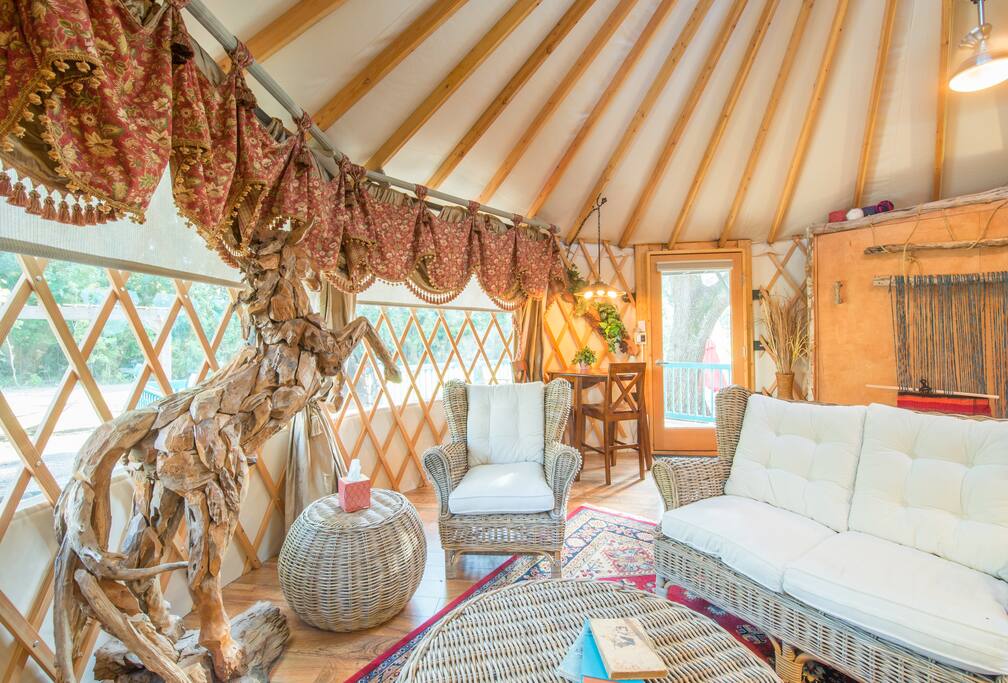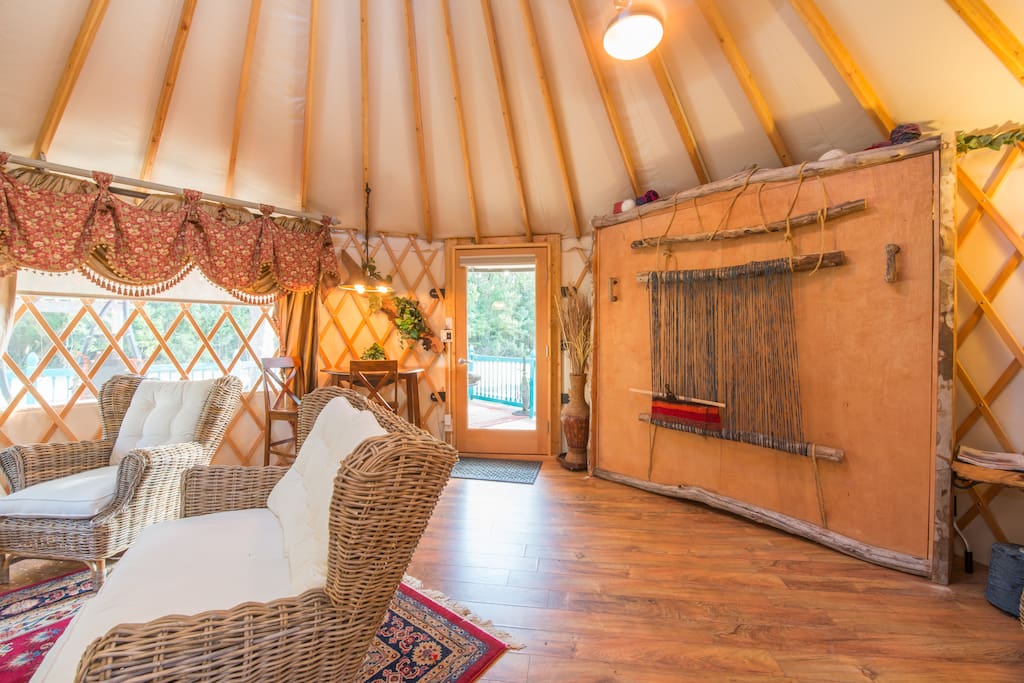 via Airbnb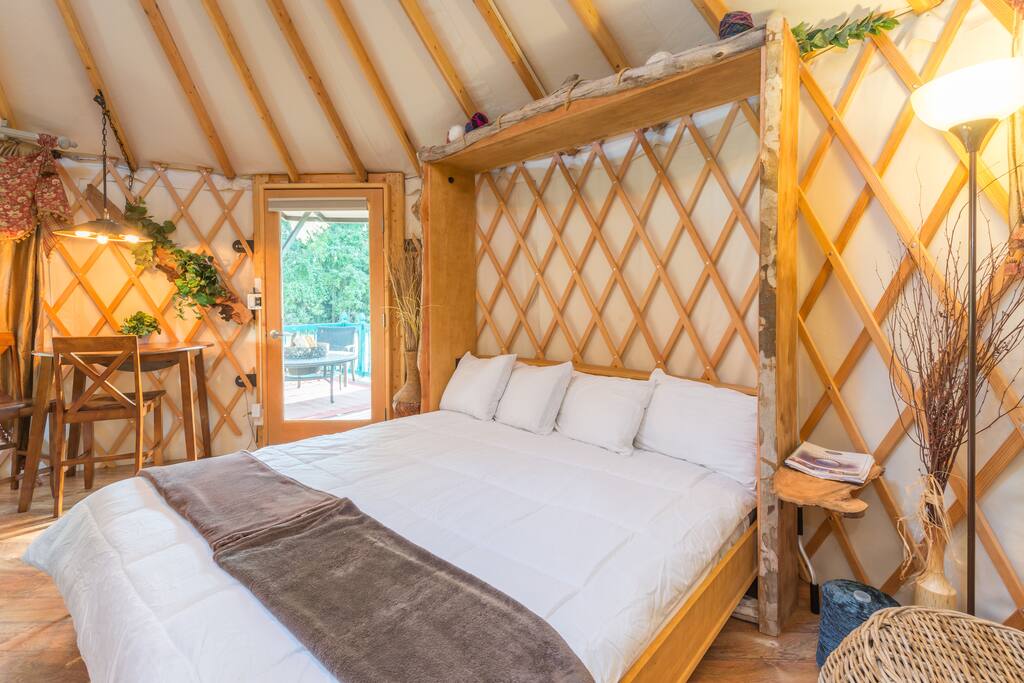 via Airbnb
via Airbnb
The circle shaped tent is 21 feet in diameter, with 14-foot vaulted ceiling, and a 5-foot skylight for you to look at the stars from inside as you sink comfortably into the king size bed. The skylight and windows have no blackout curtains, so you'll also get to watch a gorgeous sunrise in the morning.
Since the tent is made entirely from cloth, they ask that you only use the microwave inside. If you have additional cooking you plan to do during your stay, they welcome you to bring a gas grill - and even provide you with the gas to use it. If you don't plan to cook, previous guests have suggested packing snacks if you want to experience all the other things on the land.
Danville has more to explore apart from just the Yurt - they have an eclectic collection of other rental properties, such as The Danville Tree House or the Danville Inn - which is inside of an old renovated airplane hangar. The entire grounds feature over 500 acres of walking trails, and they supply their visitors with gulf carts to cover more ground.
See Also: You Can Have The Most 'Fly' Sleepover Ever At This Extraordinary Airplane Hangar In Florida.
See Also: You Can Rent This Extraordinary Tree House In Florida For Less Than A Hotel Room
If you want to stay in this cozy yurt, you'll want to book a stay before they fill up - they're almost always booked. Give yourself that much-needed R & R with a luxury stay-cation; If you're ready for a weekend getaway, you can book your reservation for the Danville Yurt here.